Bickford & Huckins
Sawmill
Gossville, NH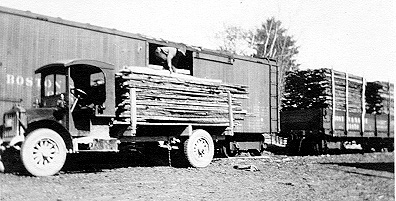 Bickford & Huckins truck loading lumber into B&M freight cars at Epsom team track.
Al Bickford Collection, courtesy Epsom Historical Association.
History
Alfred G. Bickford and George E. Huckins purchased the mill property at Mardens Corner (south of the modern Epsom Traffic Circle,) in 1915. They operated the saw mill and planing mill for decades, eventually selling the property in 1963. Mr Bickford passed in 1945, and Mr. Huckins passed in 1965.1 While this author believes that the bulk of their production was consumed locally, the photo above documents that the enterprise also shipped carload lots of lumber to larger dealers or manufacturers.
Epsom Historical Association
Most of the information above has been published online by the Epsom Historical Association on their web site . Additional photos of the mill proprietors, employees, portions of the mill itself are available in an EHA album shared by Al Bickford.
Notes

1: Epsom History blog post, Mardens Corner, Part 40, The Mills, 11/23/2015

Posted 12/12/17. Maintained by Earl Tuson.